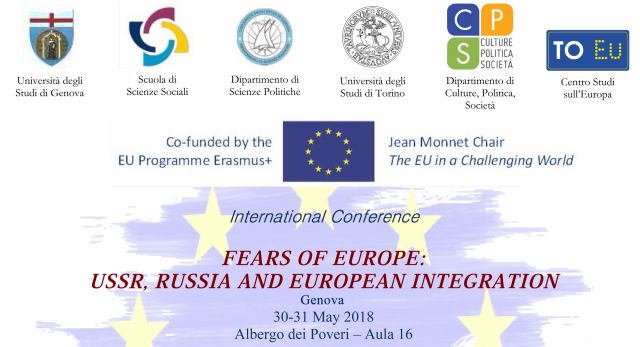 2018/05/24
International Conference "Fears of Europe: USSR, Russia and European Integration", Genova, 30-31 May 2018
Si terrà a Genova, nei giorni 30 e 31 Maggio 2018, la Conferenza internazionale: Fears of Europe: USSR, Russia and European Integration.
La conferenza è organizzata dall'Università degli Studi di Genova, in collaborazione con l'Università degli Studi di Torino e con il patrocinio dell'AUSE.
Coordinamento scientifico: Prof.ssa Lara Piccardo.
Il programma e ulteriori informazioni sono disponibili nel file allegato.
Attachments & Resources
International Conference "Fears of Europe: USSR, Russia and European Integration", Genova, 30-31 May 2018